William G. Gross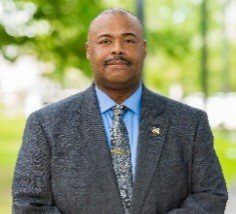 Police Commissioner, Boston Police Department
William G. Gross is the 42nd Police Commissioner of the City of Boston. He has served the people of Boston for 37 years. After joining the department in 1983 as a Boston Police Cadet, he graduated from the Boston Police Academy in 1985. He spent years as a patrol officer, patrolling the many neighborhoods of Boston. He was also assigned to the Youth Violence Strike Force and the Drug Control Unit, as well as being an Instructor at the Boston Police Academy. He was promoted to the rank of Sergeant in 2004 and rated Sergeant-Detective in 2006. The majority of his supervisory years were spent serving the neighborhoods of the Dorchester section of the city.
In 2008 he was appointed to the Command Staff as a Deputy Superintendent and promoted to the rank of Superintendent in 2012, assuming the role of Night Commander overseeing police services citywide. In January 2014, he was appointed by Mayor Martin J. Walsh and Police Commissioner William Evans to the position of Superintendent-in-Chief, the first African American Chief to hold the rank in the history of the Boston Police Department.
Throughout his career he has cultivated and maintained a strong connection with the community. He often could be found on the front lines; interacting with community activists, grieving families, clergy, neighbors, even protesters; treating everyone with respect and dignity. He strongly believes that "if you want change, you have to be the change", a philosophy he models for the community and the members of the police department.
He has been awarded numerous Departmental awards for bravery and meritorious service and several Governor's Citations; the Martin Luther King, Jr. Leadership Award; the United States Attorney's Boston Offices' award For Outstanding Dedicated Service to the Survivors of the Boston Marathon Bombing during the Trial of United States vs Dzhokhar Tsarnaev; the Department of Justice Investigative Achievement Award and was named one of Boston's 100 Most Influential People of Color. In June 2018, marking the 50th anniversary of the passing of Robert F. Kennedy, he was presented the Robert F. Kennedy "Embracing the Legacy" Award. This award recognizes those who work tirelessly to carry on the legacy of the late Senator by raising awareness and fighting against societal injustice and inequity that affect children and families.
Commissioner Gross is also affiliated with groups that are important to him both on a professional and personal level, such as the Massachusetts Major Cities Chiefs Association, the Ancient and Honorable Artillery Company and the Tuskegee Airmen, Inc. of Eastern Massachusetts. He also sits on the Advisory Boards for Boston Center for Youth and Families, the George Lewis Ruffin Society and the Special Olympics of Massachusetts.
On August 6, 2018, William G. Gross was sworn in by Mayor Martin J. Walsh, again, breaking down barriers by becoming the first person of color to hold the Police Commissioner's position in the City of Boston. "I am honored and humbled to be sworn in as the Police Commissioner of the best police department in the country. Delivering and building on our community policing model is one of my main priorities. We will work collaboratively to reduce crime and violence in our neighborhoods while supporting and lifting up our youth."